Innovate and Lead the Industry with Top Talent
Technological change is inevitable. The continuous change in today's technologically centric world requires every organization to maintain an IT support team capable of keeping pace with innovation and the speed that it demands.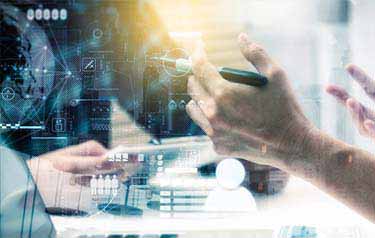 Our team has decades of experience staffing nearly every role in the IT sector, Help Desk to C-level. Our combined knowledge and curated network of contacts enables us to draw upon a reliable and experience pool of qualified IT professionals to suit the needs of any business. Our ever-changing world has only begun to see the impact that technologies like artificial intelligence, VR and robotics is having on every industry. Hiring the right talent will ensure your organization's ability to reap the benefits of marketplace adaptation.
Why us? Because we're not satisfied until you are.
Connecting Talent with the Tech
Hiring individuals with in-depth professional knowledge and expertise will give your business the boost it needs. From contract to permanent placements, we are committed to providing you the talent best suited to:
UI/UX Design and Development
Cloud Services and Architecture
Your entire process has been such a positive and professional experience for me. Your company and your team have been AMAZING. I feel that you genuinely care about my career and aspirations, and your attention to detail has been superb. I can't say 'thank you' enough for the amazing hiring experience.
Our IT team has to keep up with the constant demand for rapid deployments and complex solution implementation. The team at CGT Staffing has been a valuable partner in providing continuous assistance across a variety of projects.
Simply put, CGT Staffing is comprised of good people. They invest the necessary time in getting to know their candidates, both professionally and personally. They truly understand how to match the right people with the right opportunity. It is a refreshing pleasure working with them.
We are currently facing a two million-person shortage in Cybersecurity, so having access to qualified candidates that are a fit to my organization's culture is a huge differentiator for my program. CGT Staffing has proven time and again that they can deliver where others fall short.
CGT Staffing has been instrumental in our national expansion, finding niche "needle in a haystack" hires with speed and efficiency. As a tech startup in the northwest, it's imperative that we move quickly. CGT Staffing was able to do exactly that. I highly recommend them!
CGT Staffing has collaborated with me for more than three years, assisting in staffing software specialist positions. The team has consistently provided us with personalized attention, going above and beyond to understand the unique skill set for each role. We've seen great success as a result of those efforts.
The team at CGT Staffing is a sharp, articulate group with high emotional IQ and good business sense. They're committed to building relationships of substance with their clients to better understand the business needs they're working to satisfy. Their obvious passion for their work translates to success.